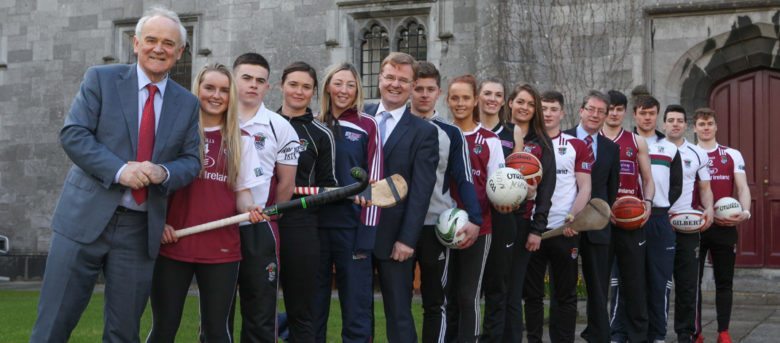 Roscommon GAA Footballer Cian Connolly represented NUI Galway GAA Club at today's announcement by Bank of Ireland of a programme of support for the development of Sports Clubs and Societies at NUI Galway.
The significant investment from Bank of Ireland will help fund the development of the Clubs and Societies and help improve the overall quality of the student experience at the University.
Speaking at the event, President of NUI Galway, Dr Jim Browne said "I am delighted to announce this exciting partnership with Bank of Ireland which aims to support the development of Sports Clubs and Societies at NUI Galway. Clubs and Societies are central to life at NUI Galway and the University's excellent facilities offer our students a chance to balance academic study with a wide range of sporting and cultural activities. The new partnership with Bank of Ireland will allow the University's students to develop their sporting and cultural interests in new and enriching ways. NUI Galway has had a long and beneficial relationship with Bank of Ireland and I am certain that this development will strengthen our relationship even further."
NUI Galway has recently announced a series of Wellness and Mindfulness initiatives aimed at students and staff within the University's culture and the wider community. As a part of the development programme unveiled today, Bank of Ireland will also be involved in a number of these Wellness and Mindfulness programmes throughout the campus starting with the inaugural Wellness Week from 7-10 March 2016.
Mr Liam McLoughlin, Chief Executive, Retail Ireland, Bank of Ireland, said "Going to university can be a big life adjustment for students. Sports clubs and societies are an important part of the college experience, presenting students with the opportunity to further their growth in other ways, to gain new experiences, and to make friends for life. We are therefore delighted to support the development of clubs and societies at NUI Galway. Wellness and Mindfulness is also a big part of the programme being announced today, and one that my colleagues from the on-campus branch will be taking an active part in. Some of Ireland's sports stars, actors, artists and public representatives have come through the doors of NUI Galway and have been active participants in clubs and societies at the University, and we are delighted to be supporting the development of the next generation at NUI Galway.
Sport is central to life at NUI Galway and the University's excellent facilities offer students a chance to balance academic study with a wide range of sporting activities. The University also offers a generous package of Sports Scholarships to elite athletes.
Director of Sport and Physical Activity at NUI Galway, Mike Heskin said: "I very much welcome the wonderful news of Bank of Ireland's new investment in the sporting life of the students of NUI Galway. Bank of Ireland has, over the years, been a wonderful supporter of the sports programmes within NUI Galway, and this new relationship will bring sport within the University to a new and exciting level. NUI Galway Sport has ambitious plans across the sporting spectrum, from developing high performance for world champions to encouragement of mass participation in everyday fun physical activities."
With over 110 student-led societies, all tastes and interest groups are catered for at NUI Galway. NUI Galway's societies have continuously topped the leader board for society wins at the Board of Irish College Societies, National Society Awards.
In welcoming the new initiative with Bank of Ireland, NUI Galway Societies' Officer, Riona Hughes said "The Societies' Office joins with students in welcoming this announcement which will greatly assist Societies in expanding participation in cultural, educational and charitable activities for the benefit of students. This support builds on the annual Bank of Ireland Society Bursary which promotes the valuable work of student societies in enhancing the student experience and enriching the wider community."
NUI Galway and Bank of Ireland have had a strong partnership since the establishment of the University in 1845 and the Bank are involved in numerous activities and activations on campus such as the annual alumni awards, Student Scholarship Programme, support of the on campus Bank of Ireland Theatre, Wellness Week, financial planning seminars and now the programme of support for the Sports Clubs and Societies.